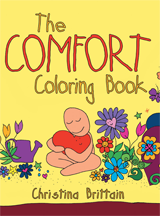 Hello everyone! Long time no post! I have been up to my elbows in inspirational cartoons and affirmative, poetic text to accompany them as I create my two coloring books for kids of all ages! Especially the grown-up ones!
Huge news! The first of the two books has been sent to the publisher! I honestly don't know how long it will take before it's available for purchase, but I am hoping that it will be available before the holidays! Many of you have let me know that you would love to purchase these as gifts, so I'm keeping my fingers crossed! I will absolutely let you know when they are available! You will be able to purchase them on Amazon, Barnes & Noble, and Balboa Press, which is a division of Hay House. I will keep you posted! Thank you all for your amazing love and support since the very beginning stages of creating the books! It has meant so much to me to have your encouragement!
The first book, The Comfort Coloring Book, will look something like the image I included in this post! It's a very sweet, meditative coloring book that hugs you as you color! As you know, the images all contain some kind of uplifting affirmation. For example, All Is Well, It's Safe To Change, and My Angels Have Me Covered! I have also included little poetic text blurbs about each affirmation that alternate with every coloring page. I just love this – the first of my twins! I say twins, because they have been like my babies, and because of course you all know that I have a 2nd book on its way too. The name of that book is The Lighten Your Vibe Coloring Book.
Enjoy the fall, and maybe I will see you at the Abraham gathering the 1st Saturday in October (information below). As for me, back to my labor of love so that The Lighten Your Vibe Coloring Book has a chance of reaching you by the holidays as well!
Huge hugs and appreciation to you all!
Chris